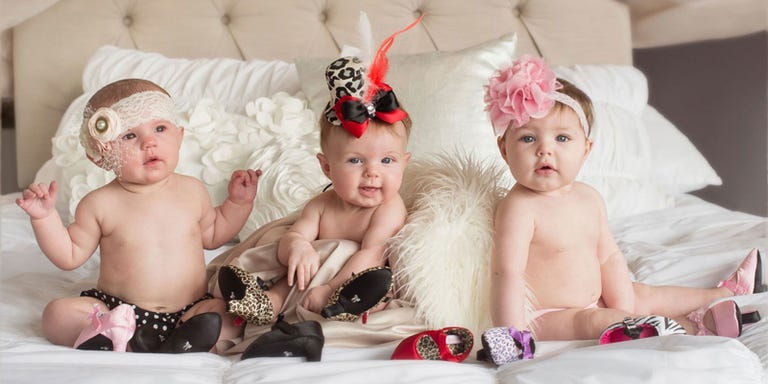 Is there a limit to what is acceptable and appropriate for children to wear? Absolutely- I myself have reacted to children plastered with makeup on the red carpets, or the uncomfortable done-up appearance of pageant girls.  But is there also a limit to what is considered taboo in regards to children's attire?  Is an infant in heels sexy? Or, is it cute, fun, and harmless? I think it depends on the parents and who's around- if it's a few women dressing up their babies, I see no harm in it.
Pee Wee Pumps is a brand coming under fire for crossing that fine line, or so some claim.   According to a Cosmopolitan article by Rachel Torgerson, the creator, Michele Holbrook, responded that she isn't taking comments seriously; she told Footwear News, "It's like putting a baby into a cute romper or tutu — it's an accessory and there's no more to it."
What were the comments like?

"Do they realize that the reason heeled shoes are perceived as sexy is because the heel forces the wearer to walk with the chest/buttocks out for balance and exaggerated arch in the foot mimicking (apparently) feet during orgasm?"
Um…lady, you're insane considering babies don't walk and children are in a latency stage my dear!!!
I think people are being a bit dramatic and weird- these babies look like an adorable throw back pack.  But the one in the middle does look like she's trouble: leopard heels, the feathers, the flirtation with the camera…lol.
Honestly, what do you think?  Comment below: seriously, we're dying to know what you think.
(Photo: Cosmo/Pee Wee Pumps)