The thought of online consultations with any type of doctor brings Lisa Kudrow in Web Therapy to mind: I was contacted by YoDerm ($10 off, click here) and asked if I'd like to review their online dermatology service (this is not sponsored).  For $59, you are consulted by a dermatologist who reviews your answers to questions and uploaded photos of your face, back, arms, and "trunk."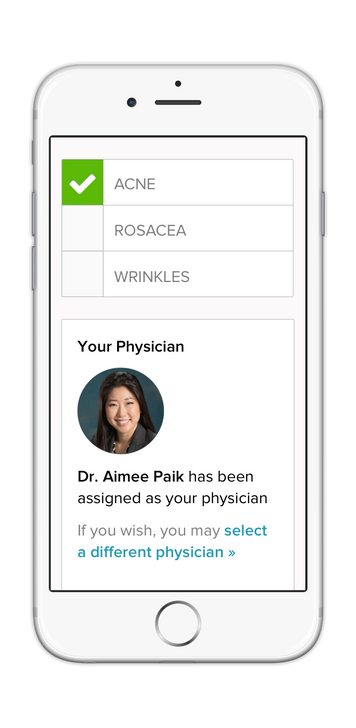 Can a doctor really get a sense for what ails you via photos? To be honest, if you've got a serious concern…go in person.  However, if you've already been to a dermatologist, had treatment or medications in the past, and are dealing with run of the mill issues like breakouts or wanting some anti-aging RX, I can see the online derma being a convenience.   I am used to facial peels and treatments at a dermatologist that you simply cannot get online (that 💩's illegal and dangerous to do yourself, trust me…don't play with acid or you'll get [chemically] burned).
To begin, you create a user name and account, are lead through a payment gateway, then answer a questionnaire about your skin type or issues, list any types of products and or medications you're on (as well as allergies), and finally upload images of your face and body (optionally).  You're also able to list any prescriptions you're wanting, which is great because, as I mentioned, if you've visited a derma before and know your skin and treatment that works for you it makes it such a convenience to get a consult and refills or recommendations for alternative treatments.
The Consultation:
Within two days I received this message and treatment plan:
Hi Perry,

Thank you for choosing YoDerm. I have created a personalized treatment plan for you, which if used properly should significantly reduce your acne within the next few months. Although your condition is treatable, getting optimal results can take some time. It takes 2-3 months to see the full benefit from topical creams, so stick with it and don't give up too quickly.

That being said, I am confident we are starting you on the best treatment plan. If you don't see the results you're looking for, we'll keep working with you until your skin is clear. You can see your treatment recommendations below, and your prescriptions should already be waiting for you at your chosen pharmacy. If you have any questions about your treatment plan, please feel free to send me a message from within your Patient Dashboard.

Sincerely,

Dr. Maggie Kober
The Treatment Plan:
We'll start with both oral pills and topical cream to control the outbreaks. In 2 months, we'll plan to taper off the pills once the acne is better controlled and continue the topical creams. Retin-A works for both acne and wrinkle prevention.

The most important factor in preventing wrinkles and dark marks is to wear sunscreen daily. I've recommended a brand that won't clog your pores.
The RX's: 1 refill each
Aczone 5% topical gel

doxycycline hyclate 100 mg oral tablet

tretinoin 0.05% topical cream
They Totaled $700+!!! 😱
Over the counter recommendations:
EltaMD UV Clear Sunscreen

CeraVe Foaming Facial Cleanser
"How'd it go???," You Ask?
I am very satisfied with the YoDerm.com ($10 OFF) service, it's quick, painless, and so convenient: Dr. Kober addressed all of my concerns and questions, and gave me the prescriptions I asked for and made some recommendations as well… Hi, clear sunscreen?…she gets me already. CeraVe? We'll see…   I will do an update on how the Retin-A (tretinoin) and Aczone perform…I feel like a teen all over again.
I would definitely recommend YoDerm.com ($10 off, click here), again this is not sponsored and is my honest opinion.